High-Quality Golf Sponsor Signage
American Hole 'n One operates an in-house, state-of-the-art, 15,000 square foot printing facility that will meet all of your golf sponsor signage needs. We offer numerous golf sponsor signage options that provide the perfect opportunity to recognize those who have contributed to the success of your event.
Your next golf tournament will look more polished and put together, leaving a lasting impression for your sponsors, contestants, and patrons alike.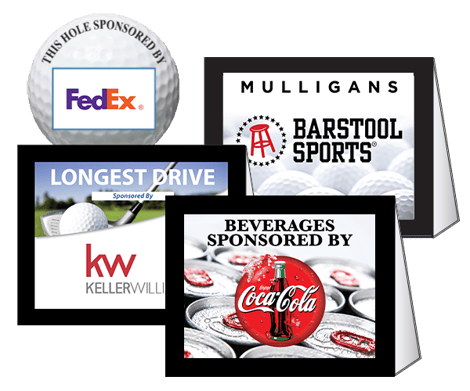 Why Golf Sponsor Signage is Vital to Your Event
Nothing says more to your golfers, sponsors, and event attendees than a quality, full color golf tournament sign. With our high-quality golf tournament signs, you can proudly recognize your sponsor's name or advertise your event in a professional manner. Our golf tournament signs and banners will help players navigate the tournament and keep sponsors coming back and contributing again in the future.
At American Hole 'n One, it's our goal to ensure that your golf tournament signs and promotional needs are serviced with the utmost care and craftsmanship. For your peace of mind, we only utilize cutting-edge equipment and materials, including our top-of-the-line four color digital printing press, to deliver exceptional golf signs, golf tournament banners, and all of your golf event signage needs. Call us to learn more about our golf event signage capabilities and what we can do for your next golf tournament!
Choose from a variety of signs, golf tournament banners, magnets, and oversized checks that will set your event apart from others! Consider golf event signage to recognize your meal sponsors, longest driver, mulligans, and more! Whatever you are looking for, our team is able to fulfill all of your golf tournament signage needs.
Why Choose American Hole 'n One for your Golf Tournament Signage?
By offering both hole in one coverage and our custom golf tournament signage, American Hole 'n One is your one stop shop for everything you need to make your next golf tournament a success.
Whether you are planning a golf tournament that is large or small, we're here to help. We offer materials for every budget and purpose, and will work with you to create the best golf sponsor signage that's personalized to your tournament.